Rowin Pedals: Value for Your Money
11 Feb19
Pedals are the lifeblood of any guitarist in a band. Whether your genre is blues, metal or a variant of jazz, in order to get that perfect tone texture, you're going need to use a pedal. While this holds true, pedals can be rather expensive. Aside from their cost, their sizes tend to be a problem as a well, making things difficult for the traveling musician. With all this in mind, Rowin Music has come up with the perfect solution in the form of its various pedals.
Whether it's dirt pedals or modulation effects, Rowin has the perfect pedal for you at rates suited for the musician on a budget. With this in mind, here's a rundown of some of the various effect pedals that Rowin has to offer.
1. Tuner
Before you can get in-tune with your audience, you need to get your guitar in-tune first; and Rowin's Nano Pedal Tuner does just that for you! Featuring a durable metal casing, a width less than 3 inches, and a chromatic digital display, this tuning pedal will ensure that your instrument is in perfect tune, regardless of whether you're in standard tuning, drop C, or some other form of tuning. Light and easy to use, Rowin's Pedal Tuner goes for a mere P1,300 (excluding shipping charges). Get it here: https://www.pedallion.com/rowin-pedal-tuner.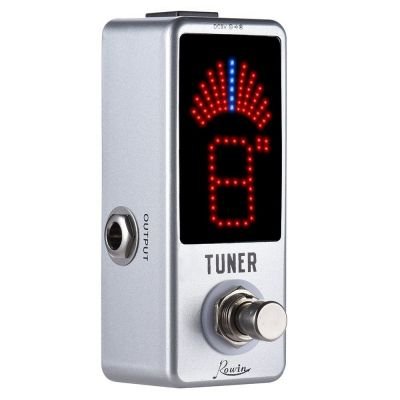 2. Dirt
Overdrive pedals will always be a necessity in any guitarist's pedal chain. Acting as a signal booster and providing the perfect burn in each note, it's no wonder that Overdrive pedals are one of the core pieces of any board. That being said, Rowin's Gumble Overdrive is a pedal that you simply must have.
Modeled after the famous Alexander Gumble's boutique amps without the exorbitant cost, this pedal provides a wide range of bright and crunchy textures suited for all your genre needs. Featuring true-bypass, a "bright" mode, and gain, volume and tone knobs, Rowin's Gumble Overdrive is perfect for both beginners and advanced guitarists alike. Rowin's Gumble Overdrive is available for only P1,370 (excluding shipping) here: https://www.pedallion.com/rowin-gumble-a-tasty-light-overdrive.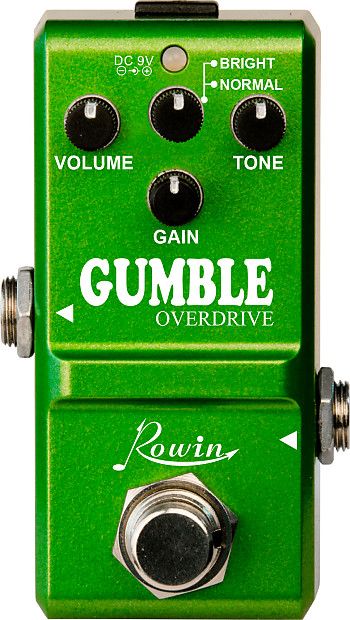 While Overdrive has a lot of utility in most genres, some guitarists need something heavier in order to truly get the sound they want. With this in mind, Rowin also features its very own heavy metal distortion pedal for the metalheads and the post-hardcore players out there.
Featuring a "boost" mode that furthers the boost given by the pedal, the Rowin Razor Heavy Metal pedal ensures that your guitar stands out from the rest of the band's. Just like the Dumble Overdrive, the Rowin Razor Heavy Metal pedal comes encased in metal for durability, true-bypass, and a sleek size for maximum portability, all for only P1,550 (excluding shipping. Get yours here: https://www.pedallion.com/rowin-razor-heavy-metal-distortion/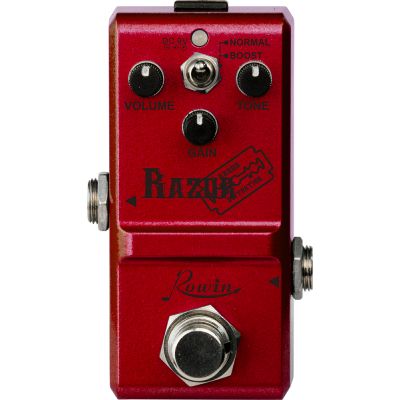 3. Modulation Effects
Modulation effects are some of the most versatile effects in the music world. With the ability to completely tweak a guitar's tones, modulation is a sought after effect regardless of your genre. With that being said, Rowin also has its own line of modulation.
Starting with its Ensemble Chorus, the Rowin Ensemble Chorus is a nifty little pedal modeled after the famous BBD-MN3207 Jazz-Chorus amplifier. Small and sleek like the other pedals mentioned, what makes it truly stand out is the functions carried. Just like other chorus pedals, the Ensemble Pedal has depth and rate knobs that allow you to tweak your tone to the perfect texture; what makes this pedal so unique, however, is its "deep" mode. By engaging its "deep" mode, the Rowin Ensemble Chorus drastically increases the ambiance provided by its already spectacular pedal.
With its exquisite tone at a bargain price, the Rowin Ensemble Chorus is another must have for any guitarist at only P1,550 (excluding shipping). Get yours here: https://www.pedallion.com/rowin-ensemble-chorus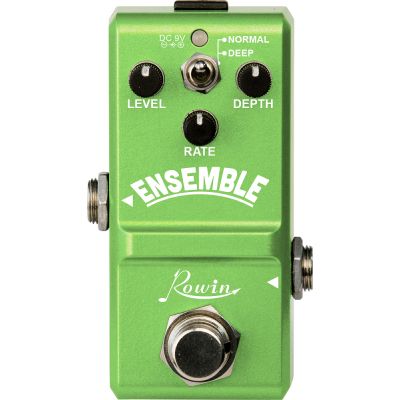 Aside from the Rowin Ensemble Chorus pedal, Rowin also has its very own Phaser pedal. Being a pure analog Phaser, the Rowin Phaser pedal features warm and lush tunes, sure to light up your guitar tones. Thin and sleek and featuring a toggle switch between "Vintage" and "Modern" modes, the Phaser is a simple pedal suited for every guitarist looking to control the ambiance of their sounds. Also priced at P1,550 (excluding shipping), the Rowin Phaser pedal is another bargain priced pedal whose beauty lies in its simplicity. Get yours here: https://www.pedallion.com/rowin-phaser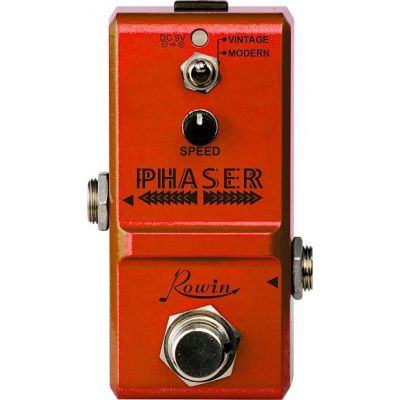 4. Time Effects
Time effects are one of the most common types of effects found in the arsenal of a guitarist, and with good reason. With the ability to transform your tone into something otherworldly, it's no wonder time effects have become such a necessity for any musician. With this in mind, Rowin's nano pedal series now also has one of its own in the form of the Echo Delay. Like all of the pedals in Rowin's nano series, the Echo Delay also boasts a compact yet durable body. More than just this, however, what makes the Echo Delay so appealing is its warm and vintage tone, packed within friendly controls suited for musicians of all levels. With a price of only P1,550 (excluding shipping), Rowin's Echo delay is definitely a steal. Get yours here: https://www.pedallion.com/rowin-echo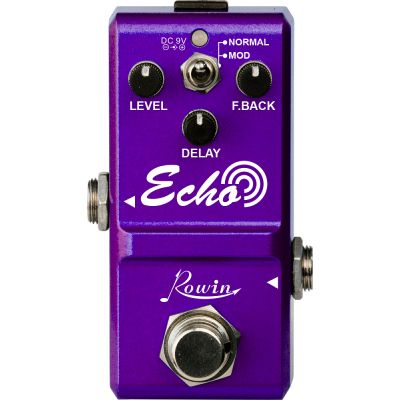 Though the Rowin Echo is great, there are guitarists who need something more intricate for their delay pedals. With that thought, Rowin has answered this need through its Rowin Time Maker. The Rowin Time Maker is a delay pedal packed with 11 different delay modules for any and every kind of song, regardless of its genre. More than just this, what makes the Rowin Time Maker so great is the fact that it also has tap-tempo, allowing guitarists everywhere to set the delay tones at their own paced. Moreover, the Rowin Time Maker also has "dry" and "wet" level controls alongside pre-set saving functions perfect for when you find the perfect delay tone among its aresenal of delay modules. While it may not be as small as the other pedals mentioned here, for its functionality and versatility, the Rowin Time Maker just can't be beaten. Priced at only P3,200 (excluding shipping fees), the Rowin Time Maker is the ultimate delay pedal in its price range. Get yours here: https://www.pedallion.com/rowin-time-maker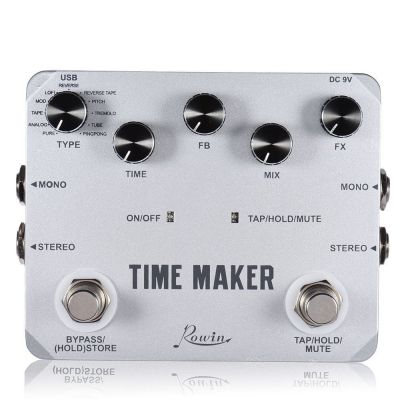 While the pedals above seem sweet, these are only some of the many pedals in Rowin's nano pedal series. With a variety of options and intuitive controls, Rowin's pedals provide all your effects needs regardless of your skill-level at affordable costs. Durable and definitely made with attention to quality, Rowin's pedals are a definite bang for the buck. Rowin's pedals are all available here at Pedallion through New Gear Day. Check them out here:
https://www.pedallion.com/rowin